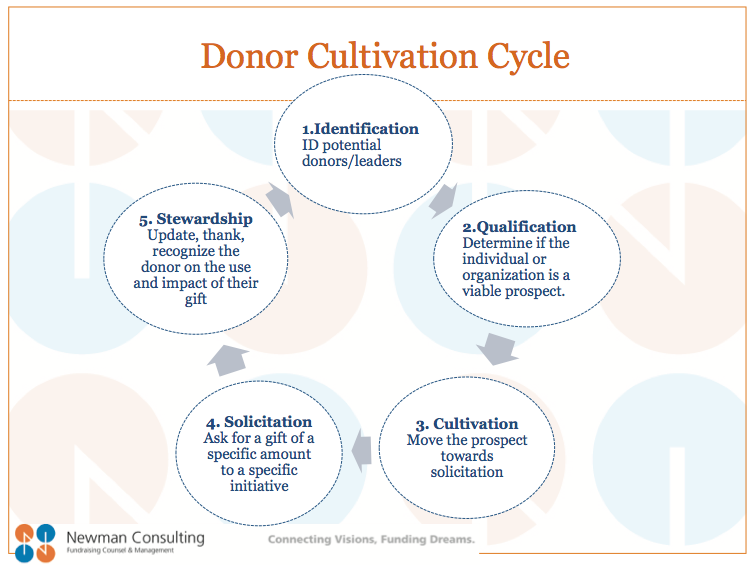 According to Statistics Canada, charitable giving has increased over the years. In the last 10 years, there has been a 27% increase of giving by Canadians. Yet, organizations and donors are reporting that retention is lower. Why? Donors are saying that one of the main reasons for them deciding to discontinue a donation is that communication is lacking.
Whether you are asking a donor to give a gift to a capital campaign, a project, or generally to your organization, you should follow the 5 phases of the donor cultivation cycle to maintain good relations with your donors. The donor cultivation cycle should be used for all major gift programs, which all non-profits should aspire to have.
Donors are most likely to become aware and interested in your project through events, direct mail, or advocacy. Once introduced to your organization, they should be steward through this cycle by various means.
Below we have outlined the 5 phases of the cycle and have suggestions on how to approach each phase.
Identification
The first phase is to identify potential donors and prospects that would support your initiative.
Encourage each member of your organization to generate a list of potential donors based on their connections.
Create your own list of prospects based on businesses, grants, and foundations that are likely to support you based on their social responsibility or giving guidelines (can be found on most websites).
Qualification
Determine if the individual or organization is a viable prospect.
This can be done through multiple avenues such as researching or meeting with the prospect. We advise to meet with the prospect in person if possible since research can be based on out dated sources or individuals may have different qualifications for donorship.
During the qualification phase, you should be identifying if a potential prospect could be a donor. To determine this, 3 aspects need to be determined:
Interest; are they interested?
Ability; do they have the means to give?
Link; how do they align with your organization?
Cultivation
Move the prospect to the solicitation phase.
In order to move the prospect to the solicitation phase, a donor must be educated on the initiative and feel confident with their donation.
The cultivation phase can include walkthroughs of your initiative, inviting them to different events that your organization is holding or setting up information sessions with their staff.
Donors will vary on what needs to be done in order to move them to solicitation. Think about what they would like from a partnership and foster relations based on that. A great example is if a company also wants to volunteer for an organization, invite them to volunteer for yours.
Solicitation
Ask for a gift of a specific amount to a specific initiative.
During the qualification stage you determined if the prospect could be a donor and during the cultivation stage you ensured they were confident and knowledgeable about your organization. After these stages are complete (and only then) can you ask for a gift.
The best ask for a gift is for a specific amount to a specific initiative. For example, if you are raising money for a new childcare facility and a playground cost $50, 000, you could ask a donor for a $50, 000 gift with recognition on the playground.
Stewardship
Stewardship is crucial to maintain your relationship with your donor through updates, thanking them, and recognizing the donor on the use and impact of their gift.
Ensure each donor feels they have contributed and made an impact. Each donor should continually be educated on updates regarding what their gift went towards, be recognized for their contribution, and personally thanked for.
Keep in mind that a number of factors can influence the cultivation process. The cycle can only move along at the speed donors make decisions. The 5 phases will overlap as you approach and foster relations with different donors at different paces. The cycle typically takes 8-12 months for one donor.