Newman Consulting offers a variety of workshops about fund development. Below, you'll find samples of workshops currently being offered in public settings as well as private team training settings.
The Major Gift Challenge: How to Get Started Raising Major Gifts
Capital Campaigns: Plan for Success
Perfecting Your Organization's message
Annual Giving for the Small Shop: Effective & Efficient Fundraising
4 Simple Secrets for Grant Writing Successful Nonprofits know that help them Avoid the Heartbreaking Rejection Letter
What Every NonProfit Board Member Needs to Know, Do and Avoid
From Survive to Thrive: What most Non-profits Are NOT Doing
Plan on attending one of our scheduled workshops below:
Effective & Efficient Fundraising 
Date: Saturday, October 13, 2018
When: 9:00 a.m. – 2:30 p.m.
Where: Hampton Inn and Suites, Sherwood Park, AB
Cost: $25/person
Information and Volunteer Centre will be hosting this workshop with instructors Rhonda Newman of Newman Consulting. The focus of this workshop is to ensure your organization is utilizing your valuable resources where they will have the greatest return.
To register, please visit the following website.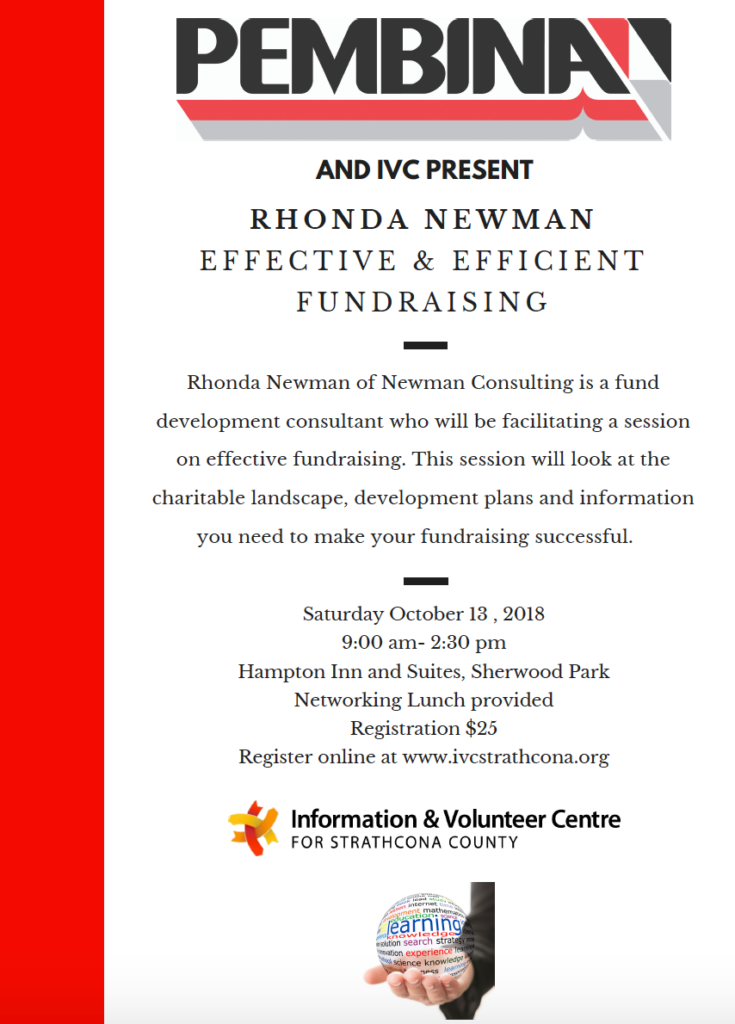 Please check back frequently for updates on this workshop and others.